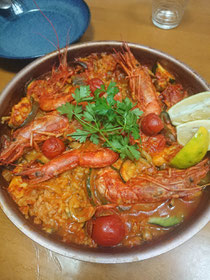 Ingredients


3-4 large plauns
6-8 pcs precut squid
200g of clams
6-8 pieces of chopped white fish
1/2 paprika
1 onion
1/2 a stick of celery
1 lemon
1/2 bag of Italian parsley
can of whole tomato
unwashed rice
1 clove of garlic
1/2 tbsp salt
black pepper
1/4 cup olive oil




INSTRUCTIONS

using 26cm pan   

1. Cut paprika into thin slices, lemon into 4-6 wedges.

2. Cut onion,celery,garlic into small pieces.

3.First, fry  squid until it gets brown.

4. Saute onion,celery,garlic in the olive oil.

5. Crush tomatoes and boil together with the squid, fish, and fried vegetables on medium for 2-3minutes.

6. Add prawns, clams into 5.soup a heat and and boil for5minutes until soup is reduced.

7. Take prawns,squid out.

8. Add rice into 6 soup and boil for about 5 minutes on high, then change the heat to medium and boil it for about 12minutes until the liquid is reduced and rice is cooked.

8. Add fried prawns, squid and cook rice. Turn up heat until bottom is toasted.

9. Finally, decorate it with lemon, Italian parsley.